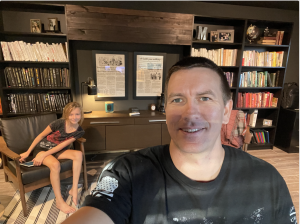 Updated July 31, 2022 from Central Texas
Getting Settled in Texas
We sold our home in Washington and moved to Texas this year. We moved into a new home that just got finished in April located about 10 minutes outside of New Braunfels, Texas. New Braunfels is about 45 mins south of Austin and 45 mins north of San Antonio. We are loving Texas (yes even with the 100-degree days). It was a big move for us since most all our friends and family are in the Northwest. So we're sorta starting over here socially. Making new friends, finding a new community and just figuring it out. But we're loving it.
Writing Financial Copy
Lately I've been writing a lot of financial copy. I just finished the biggest job I've ever done, which was an hour-long VSL for one of the Agora divisions. It's in legal review now and soon to be produced. The launch date is Aug 30th. So hoping it does well. It's consumed a lot of my time over the last two months but I'm also proud of the work I've done on it.
Sold the Motorhome
It was bittersweet, but we did it, we sold "Big George." It's nice not to have the $500/month payment (plus storage, insurance and maintenance was about another $300/month). So we're saving a little bit there. Lacie did a great job fixing it up and making it look amazing. So we had over 100 inquiries on it. And we ended up selling it to a couple from Alabama. They loved it and she flew out her to drive it back with her sister. We sold it for a few reasons but mainly because the HOA in this new neighborhood doesn't allow motorhomes, so we'd have to keep it in storage. Plus, I think we'll most likely be flying to places for vacations for the foreseeable future, especially knowing we'll be visiting Washington and Michigan (where Lacie's sister moved to.)
Right now I'm reading:
(This is a Now page. To learn more about Now pages go here.)