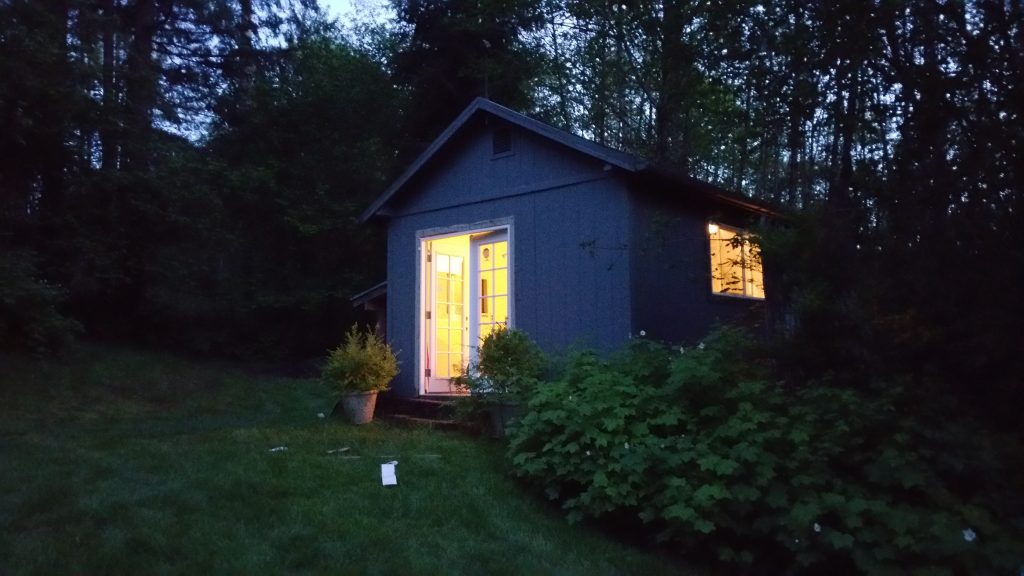 I'm exhausted. But also super happy!
We just moved into our new house two nights ago. And my wife and I hit the ground running with our first home project: converting the 10×20 outbuilding into my new office!
And we're making good progress. We moved in Friday night. And on Saturday we went to take a closer look at the outbuilding to see what prep work we had to do before installing the new floor.
That's when we ran into an obstacle…
We noticed that there were several rotted out boards near the entrance. Water would come in because there was no seal around the doors. So we had to fix that problem first.
We took measurements and then drove to Lowes to buy new exterior doors (ones with glass so I could look out and see our new property). We also bought some plywood and other materials to replace the rotted boards.
The doors we bought were too big to fit in our minivan so we rented a cargo van from Uhaul which only costs about $50 total.
Last night we ripped out the bad wood, replaced it with plywood and then installed the new doors. We didn't really know what we were doing but we eventually figured it out so the doors shut (which is an important feature for doors!).
Then today we installed some filler tile pieces above the plywood so that section would be flush with the rest of the floor. Then we painted the ceiling and the walls.
By this time it was about 9:30 p.m. and time for the kids to go to bed. So I put the kids to bed while Lacie and her sister Cailee went out to clean the floors really good so they could install the new floor!
It's 11:10 p.m. and after I publish this post I'm going to go check on them now that the kids are asleep.
The last two days have been a whirlwind but it's been good. Soon enough I'm going to have the office of my dreams! I remember writing down "my dream work situation" back in 2010.
Part of that dream included a separate office building on our property that I could walk to in the mornings. It was also located in a rural area, which is where we are (about 10 minutes East of Battle Ground, WA).
So I'm feeling very thankful right now for this new setup. Tomorrow the internet company is coming out to install internet (12 megs) so I'll be up and running soon! I'll have my own office building that overlooks our property and it's only about a 20 second walk to get there.
I'll post the video I made of the remodel as soon as we're done. For now here's a couple photos: