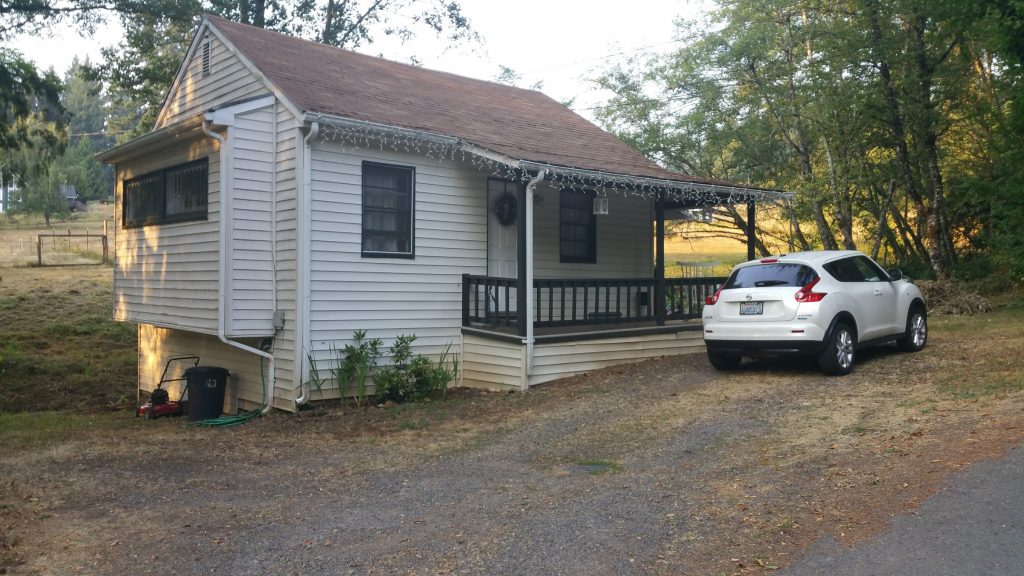 I got married in the Summer of 2009. The photo above is the first home we ever lived in.
It was one bedroom and had a tiny little kitchen and bathroom. And when the wind blew you could feel it come through the walls. But we loved it!
There was a little creek that ran right next to the house so at night we would crack our bedroom window and listen to the water. It was so relaxing.
After that home we moved to Lake Oswego because I was tired of commuting 2 hours a day (1 hour each way). But then we moved back to Washington in 2011 right before I quit my job at the insurance company.
Then in 2012 we moved to Bend. And then a year later we moved to a bigger house in Bend. Then we moved back to Washington to a place called Sunset Falls. Then we moved back to Yacolt, then to Ridgefield and then into our RV and then back to Yacolt before buying our first home earlier this year.
So yes, we've moved a lot in the last 8 years. I guess that's 9 times in 8 years!
And do you know what the funny thing is? That little white house where it all started is only 1,000 feet down the road from the home we're in now.
If you're just measuring progress by distance then you could say we haven't gone far in 8 years.
But if you're measuring progress other ways, say the size of our family (three kids and one on the way) or by the depth of our relationship or by the amount of freedom we have in our lives, then we've made great progress.
It's just a good reminder that it's up to us to decide what success, progress and growth means in our lives. Nobody else gets to decide that for us.