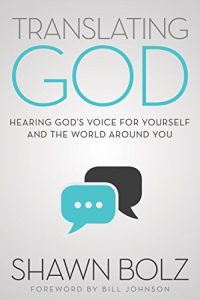 Summary
This book quickly became a favorite for my wife and I. One of the biggest takeaways I got from reading it is that "prophecy is about relationship." Relationship with God and with one another. Sounds so simple (and it is) but it's so powerful too!
I've read and re-read these notes several times since I finished this book and I always find something encouraging in them when I do, hope you do too!
Click here to get a copy of this book on Amazon.
---
My Notes
Think of how technology accelerates things. The prophetic is the same way.
"The prophetic is meant to be like this; it is the technology or smart device to our spiritual love. It is the tool that accelerates relationships and creates connection with people, cities, countries, industries, and the world. Through it we see a very real glimpse of God's heart and get to treat people exactly the way God intended them to be treated from the beginning." 17
"If God really was responsible for every word that people were claiming were his, then the God of insurance companies truly would exisit (with their "acts of God"). 18
"So much of the prophetic ministry today has lost is higher focus and reduced itself to the mere development of gifts. The real purpose of prophecy is to tie you to your eternal calling to be in Jesus – in the best form of yourself that you were designed to be… It is supposed to allow you the feeling of what it is like to be both eternal and spiritual alongside feeling normal and human." 21
When you understand someone's story you can better relate to them. 25
"This is the goal of prophesy: to connect people to the empowering nature of God so they can become like him and display his marvelous nature to all the earth." 32
"It takes no anointing to see what is wrong in people's lives. Tell them something they don't know! See the gold and tell them that." – Phil Elston 32
What would happen if we treat kids like they're going to be one of the most important people in history? What if we started doing that with each other now? 33
"Revelation empowers you to see everyone around you as winners, as the bride. It also helps you see how to help people and groups overcome obstacles that would keep them from empowerment." 34
"As you walk with God and he speaks to you, he always talks about whom he loved and what he loved, which gives you an enlarged capacity to experience more." 43
Story of Christian speaker who openly condemned a well-known pop singer, saying God will judge her. In his heart Shawn said "She just doesn't know the love of God; don't talk about her, because she is close, and if she heard what you were saying, she would think God hates her, because you do!" 49
Story of South American dictator president.
"What did he tell you?"
"He told me that he wouldn't help you with this [phrase withheld]." It was like a five-word code name.
Two men behind him breathed in when I said it, and he told everyone to get our of the room other than those two men, myself and one heavily armed soldier. Even his relative left, I should have been nervous but I wasn't."
…the dictator said he would not do the thing he mentioned if God was not with him. It was a war effort. He tried to give Shawn money but he refused. 57
"Who does God love that he wants to send you to? Will you be willing to go? Will you obey him with those around you first to he can entrust you with the hardest or the best later?" 58
Story of a wrong word of knowledge that led to a guy getting saved because it's about love, not about information. "Information doesn't matter. Love does." 68
"Knowledge that is not married to love and spiritual awareness can become religious." 73
Story of prophecy of earthquakes in Peru 75
If you only see the truth without God's heart and perspective it can destroy relationships. We have to see things through God's eyes. 82
"We have to discern both good and evil but live in the good, the right, and the noble. We have to keep our eyes and affections fixed on God and see things from his heavenly perspective, living from the place of his presence and heart of love. We are often at war with his perspective, and the prophetic can either compound that war or bring hope. The Bible is often called the gospel of good news! Prophecy should reflect that." 84
"God has given you discernment so you can pray and get his spiritual perspective. Sometimes God shows you what is not happening so you can define the void and pray a resolution from his heart. Sometimes he shows you what people are not doing so you can hear God's heart about what he wants to raise up. For everything you discern, there is a deeper, more original thought about it in God's heart." 85
"Some people want God to speak to them about everything because they have no identity. They don't believe in their ability to make good choices or to be empowered to be truly free. They can't make a life decision without saying, "God told me." In regards to my parents methods, it would make my parents look bad and me extremely immature if I relied on their stewardship of my life as an adult. It actually sends a mixed message to the world: God loves me but he doesn't trust me to make good choices so he directs everything I do." 91
"I often tell people who are exceptionally discerning to fast from negativity for a while. In other words spend 6 months ignoring your discernment because your negativity is causing your focus to be off and your discernment has become critical instead of empowering. just focus on what God is doing in every situation and ignore the enemy or humanity until you can stay in an attitude of victory in who God is." 86
Prophecy is about relationship. No one can teach you exactly how to be intimate but you can build relational skills. 88
Mankind rebels against authority that isn't relationally driven. 89
"He wants to reveal his nature to you and rewire your brain with kingdom thinking and living. He wants to make your heart full and whole and help you to make the best decisions you can, not make them for you." 89
"Lastly, think about it this way: If your daughter came to you at 24 and said, "Pick out my husband I am afraid of my own choices," you would feel terrible as a parent." 92
Definitions:
"Word of Wisdom: a revelation on what to do with what is inside of us. Or its revelation on what to do with what is inside of us. Or it's revelation to interpret and give strategy to our spiritual perspective, or even to other personal prophetic words. Getting words of wisdom is like having a coach or counselor explain what is going on in your heart or about your spiritual or life journey. The word of wisdom is the supernatural revelation, by the Holy Spirit, of divine purpose or counsel from the mind and will of God." 98
"Words of Knowledge: concerns supernatural revelation by the Holy Spirit about a person's life. The information is not solely discerned, but includes specific facts that will help bring someone's heart closer to the mind of God. Words of knowledge help people feel known by God so they will believe more deeply in the truth. A word of knowledge usually comes right before a prophecy, healing, or miracle in order to bring faith for its release." 101
"When people hear that God knows precious details of their lives, whether historical or current facts, it helps them to feel known by God and cared for by him." 103
Story about Little Runner
See video (this is worth watching for sure!)
Here's the highlights from this video:
"Is your wife's name Tiffany?" (Yes)
"Does Clay Aiken have anything to do with you?" (Yes, that's our last name)
"Is there a Chris and Laura in Missouri?" (Yes, those are our cousins)
"I see a little runner in heaven. He couldn't run on earth, but he is running in heaven." (Mr. Aiken's cousins had just lost their little boy to Parkinson's a few weeks before. His dad was a runner and he loved running to much that he actually named this boy Runner.)
"A season of grieving is passing from their house."
"The Hebrew mindset dictates that the power of God is his very nature manifested through his presence or connection to us. It's not a livewire of current or spiritual electricity; it's his love nature and the manifestation of his personhood." –109
"Developing a life in God's presence above all else is the only way to fulfill our God-given destinies. Keys to our calling are released when we spend time there." – Heidi Baker 111
"If we are not love motivated but rule motivated, we can build character around a ministry or gift – for a time – but we risk not being able to maintain it with the same passion. Following rules is an intellectual choice that our hearts may or may not follow, especially when obedience is often dependent on circumstances.
To love the anointing is to love the intimacy we have with God – the source of all power to change and be eternal. To love character, gifting, ministry, or occupation first will eventually bring us to a place where we violate this relationship for the sake of building influence or impact. We must make little adjustments in ourselves every day to keep pursuing God and to keep him first. Then his power will flow through us, because it is relational power before it is governing power of educational power." 112
"Back around the time of the Korean War, a group of Christians in Canada were praying about how to help Korea. They saw in their hearts a developed South Korea and asked God for a strategy to bring that about. He showed them that if they rallied Westerners to finance one child each through education, then this education would become a foundation for the future greatness of the country. They used this prophetic word to start one of the greatest humanitarian organizations for children in history: Compassion International." 115
"Prophetic power comes when we see God's original design over nations, cities, people groups, industries, children, etc… You can't listen to the war report, the popular report, the opinion papers, the religious report. You have to hear God's heart report – HIS original plan and design and HIS current plan… Even the United Nations will change dramatically when we start to help steer these reports over nations to be seen through a heavenly lens. We want to listen to God's heart instead of critical mass." 115
Story of Hawaiian girl who found out she should be a cook. 122
"When you track your words, it gives you an opportunity to learn from your strengths and your weaknesses. Ot causes you to have to be vulnerable as you grow through a deeper level of both insecurity and rejection. You're taking on a level of responsibility that is not always easy, but is a necessary part of maturing."137
Spend time developing relationships with other churches and city leaders so that our church doesn't get bogged down by elitism. 156
"You want to grow in authority to speak powerful words? Grow in love! Pray and fall in love with your spouse, your family, your friends, your coworkers, your church, your neighbors, and your city and you will have spiritual perspectives to share that will have ears that want to listen everywhere." 160
Story about how Shawn and his friends in Kansas City practiced the prophetic. Sounded like a game of 20 questions. They got so much wrong but after a while something shifted and they started to get great accuracy. They started to learn the difference between their thoughts and God's. 163
Story of the wealthy man who Shawn got his most private bank account number. 163
"You cannot translate what you do not know or understand, and the type of knowing we are talking about is not knowledge based; it's heart based. You are translating the culture of heaven and the heart of the Father. If you want to grow, get to know his heart culture. Look at all the ways he is talking to you. Study history. Find out how he has spoken into church movements around you. Try and see him in current popular culture right now. Practicing this will cause you to see a whole new level of God." 167
Listen to Other God Stories
"One of the most fruitful ways to grow is to treasure hearing others' God stories. It will teach your spirit what is possible and will help you to take new risks that your imagination has never seen. Your spirit is looking for new ways to give away God's love, and it is easy when you fill yourself with authentic and doable stories. I can't tell you how many stories I have fed my faith with. It has helped me to set a high bar for my own journey. I have this feeling that God never puts anything in front of us that we cannot replicate. If we see it, he is imparting faith for a similar occurrence or testimony in our lives. When I hear pastors, public speakers, missionaries, or business people share amazing God stories, I know that listening to them can be an invitation to recreate them." 168