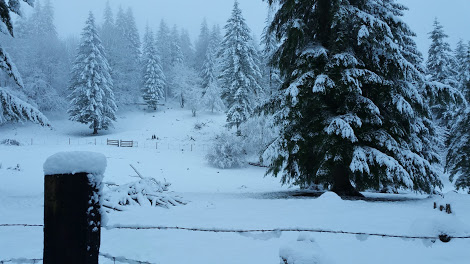 "We have hints that there is a way of life vastly richer and deeper than all this hurried existence, a life of unhurried serenity and peace and power. If only we could slip over into that Center."

— Thomas Kelly, Testament of Devotion
It's January 1, 2017. Day one of a new year.
I look outside the window of the RV and see the ground and trees covered with a thick blanket of snow. The snow reminds me of the new year. All the details, dirt and branches are covered up. It's a blank canvas to write on.
But at the same time I get nervous that when the newness of the year melts away it'll reveal everything is just how it was last week. I'm afraid I'll revert back to my old ways of being hasty, busy and stressed.
Yet, I feel a strange sense of hope rise up in me. It whispers, "You don't ever have to go back to a hurried existence. You can be free."
I wonder what that means. "To be free." To slip into the "Divine Center" and never leave. What would it really be like to practice the presence of God like Brother Lawrence did?
What if I could fix my mind on God throughout the day like Frank Laubach did and live a life that was both mystical and helpful.
What would it be like?
My mind immediately scrambles for answers and I find it offering up good ideas about things I could do to achieve this type of life.
Longer times meditating in the Word… no smartphone… more long walks in the woods… less complicated goal-setting and productivity systems. The list goes on!
And I like all these ideas. They're good. I'll likely adopt many of them.
But if we're honest, we know that true change always begins in the inside. For example, it's possible to spend 30 minutes "meditating" on a verse only to be constantly bombarded with distracting thoughts every 30 seconds.
And I could give up my smartphone only to replace that time with an obsessive compulsion to read more books. Again reading is a good thing but if I'm simply filling every free moment with more information it's a sign I'm not at peace with myself. Something is off if I can't be still for 5 minutes without any outside stimulation.
So what's the answer?
I believe it's learning to live a spiritual life. Sounds cliche, I know. But when I say "live a spiritual life" I'm not referring to a religious life or a life focused on rules and principles.
I'm referring to growing, and living, from your spirit. That part of us that psychologists refuse to acknowledge exists. If you've been born again then your spirt is now alive. And it's that part of you that is able to commune with God.
Our spirit is also what can – and should – govern our mind and body. I believe it's only from this posture that it's possible to break free from the tyranny of busyness and to live a life of peace and joy.
When we live from our spirits instead of our minds things like worship and meditating on the Word take on a whole new meaning.
So that's my prayer this year… that we would live from our spirits – from that place of union with God.
Some may argue that this "spiritual" approach to life serves no practical purpose and that you will fail to achieve your goals if you do this.
But remember that if you delight yourself in Him, He shall give you the desires of your heart. And that walking in faith is more important than simply "being productive."
And this doesn't mean you don't continue to work hard.
I love the model the Apostle Paul gave use: in the midst of the greatest revelation any person has ever had about the nature of God and man, he still continued to run his tent-making business.
Here is a man of great faith who knew that "whatever he asked the Father in Jesus' name that it would be given to him." And yet, he still got his hands dirty. He worked hard. He made sales and focused on revenue generating activities in the midst of a ministry that would transform the world. I love it.
Thank you for reading. I know this post is a little "deeper" than my normal ones from last year but I believe it's important. I've decided I'm not going to hold back any more when it comes to these matters of the heart.
If I simply write about "7 Keys to a Simpler Life" and I tell you all the "external" things you could do (i.e. meditation, going for walks, quit Facebook, etc.) but I neglect to talk about the "internal" realities then I'm holding back. I'm holding back out of fear of what some people, who aren't believers, may think. And that's dumb.
So 2017 is a year of freedom. Freedom from the fear of man. Freedom from busyness. And freedom to practice the Presence of God.