I'm on Day #36 of my 10-year commitment to publishing a daily blog (which means I only have 3,616 days to go!).
And even though I try not to pay much attention to analytics this early in the game I confess I can't help it sometimes.
Take Facebook for example. It's interesting that my posts that mainly deliver "information" only get a handful of likes.
But the post that got the most likes, comments and shares was the one where I shared "my story." It got 84 likes, 18 comments and 6 shares: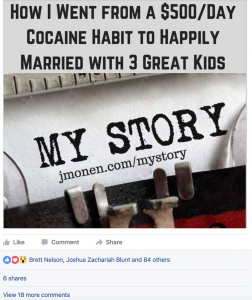 Most of my other ones get 2–9 likes and usually no comments or shares, like this one: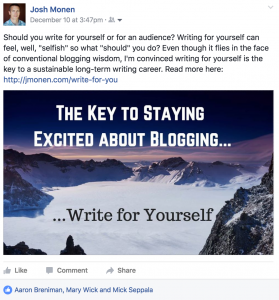 So of course this got me thinking about "why" this is. Why is it that people are so drawn to real-life stories?
And why is it so hard to get people to pay attention to information?
I don't know why. I can pretend to know and share a bunch of "information" as to why stories are so compelling (all I have to do is spend 60 seconds on Google to find info about why stories work so well).
But I don't need to do that because I know it's true. So do you.
The question I have then as a writer and blogger is how do I tell more (and better stories) instead of just dumping more information unto the internet?
Information is just not as valuable as it once was. In 2002 people would pay $1,400 for a set of Encyclopedia Britannicas. Today you have all that information and more at your fingertips for free.
So I get why people don't care as much about "information." Even if it's helpful and free. People would rather hear someone tell them a story about how their life changed when they applied that information.
Knowing this truth makes me want to be a collector of stories, not information. I also want to live a life that creates more stories that I can tell. This is good. It means less time spent consuming information and more time spent on application and reflection of real-world experiences.
What about you? What stories could you tell to inspire, encourage or help someone else? Do you want to have more stories to tell? Then what do you need to do to make that happen?