"OK, give me your foot," I said.
I looked up at Emma, dressed in a pink snow suit with a little black helmet covering about 95% of her blonde hair and wondered if she would like snowboarding.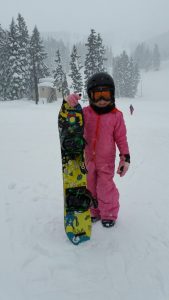 She lifted up her boot and I put it in the binding and strapped her in.
"Ok, now, just point your board straight and you'll start to go down."
She nodded and then pushed off. I thought she would fall after a few feet but she just kept going… another 10 feet, then 20 and finally after about 30 feet she crashed!
I had to run full speed just to keep up with her. As I ran I was laughing because I was so happy and so proud of my little girl!
I heard one of the workers shout out from behind us and say, "Those are the kids that go pro! See how she turned and rode switch. That's good!"
After she crashed I helped her up and she rode the rest of the way down the little slope without crashing. When she got to the end she shouted, "Again! Again!"
We rode the "Magic Carpet" conveyor belt up about 7 more times before I finally suggested we take a break and go eat in the lodge. By that time Emma was begging me to take her on "the big hill." I told her next time.
It was so much hanging out with my little girl today. When I got back to the cabin I got a little reflective and felt grateful for the fact I was free to take 3 days off in the middle of the week to go hang out in a cabin with my family.
There was no boss I had to request "time off" from. And I didn't have to worry about not having enough vacation days left or anything. We just decided to do this recently and did it.
It's not because we have a ton of money. And it's not because I don't have responsibilities or care about my work. I do. It's just that I chose to travel a different path with my work. Ever since that day I left Corporate America 6 years ago to "do my own thing."
It's been hard running my own business. I won't lie. I'm not sitting on the beach (or in a cabin) sipping cocktails all day. When I work, I work hard. I'm focused and I take what I do seriously. But now I'm also working on taking fun seriously too.
So whether it's a 2-month RV trip to Southern California or a 3-day snowboarding trip, I'm learning to make time for vacations and creating memories with my family. Otherwise, I may as well go back to the 9–5.
…OK, now time to go, I see my kids have just broke ground on a new gingerbread house and it looks like they need some help with the framing.